Faculty/Staff Information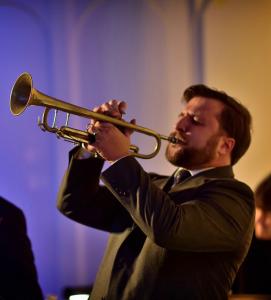 Keith Karns
(Professor, Dr., Mr.)
Professor, Music
503-838-8541 | karnsk@wou.edu
APSC 221

At WOU since
09/16/2018
Hobbies
Hiking, Boating, Fly Fishing
Hometown
North Pole, Alaska
Favorite book/movie
Film: Once Upon a Time In The West Fiction: The Moon is a Harsh Mistress Non Fiction: Peak: Secrets From the NewScience of Expertise
Office Hours
Mon
Tues
Weds
Thurs
Fri
Noon
Noon
Noon
Noon
Noon
By Appointment
Course schedule
Fall 2019
| CRN | Course | Title | Times | Location |
| --- | --- | --- | --- | --- |
| 10920 | MUS220 | IMPROVISATION | MW 1400-1450 | SH 108 |
| 10982 | MUEN321 | BRASS CHAMBER ENSEMBLE | TR 1100-1150 | SH 123 |
| 10962 | MUEN121 | BRASS CHAMBER ENSEMBLE | TR 1100-1150 | SH 123 |
| 11068 | MUP300 | NON-JURIED | - | --- --- |
| 11317 | MUP605 | AMERICAN VERNACULAR STUDIES | - | --- --- |
| 11876 | MUP615 | COMPOSITION | - | --- --- |
| 11042 | MUP225 | INSTRUMENTAL | - | --- --- |
| 10967 | MUEN163 | ORQUESTRA BRASIL | MWF 1600-1650 | SH 108 |
| 11796 | MUP425 | INSTRUMENTAL | - | --- --- |
| 11871 | MUEN521 | BRASS CHAMBER ENSEMBLE | TR 1100-1150 | SH 123 |
| 10966 | MUEN162 | WESTERN HEMISPHERE ORCHESTRA | MWF 1500-1550 | SH 108 |
| 11246 | MUP205 | AMERICAN VERNACULAR STUDIES | - | --- --- |
| 11874 | MUP315 | COMPOSITION | - | --- --- |
| 10941 | MUS250 | CONCERT ATTENDANCE | R 1100-1150 | SH 108 |
| 11023 | MUP125 | INSTRUMENTAL | - | --- --- |
| 11875 | MUP415 | COMPOSITION | - | --- --- |
| 11775 | MUP325 | INSTRUMENTAL | - | --- --- |
| 11009 | MUEN563 | ORQUESTRA BRASIL | MWF 1600-1650 | SH 108 |
| 10998 | MUEN363 | ORQUESTRA BRASIL | MWF 1600-1650 | SH 108 |
| 11873 | MUP215 | COMPOSITION | - | --- --- |
| 11784 | MUP405 | AMERICAN VERNACULAR STUDIES | - | --- --- |
| 11244 | MUP625 | INSTRUMENTAL | - | --- --- |
| 11872 | MUP115 | COMPOSITION | - | --- --- |
| 11008 | MUEN562 | WESTERN HEMISPHERE ORCHESTRA | MWF 1500-1550 | SH 108 |
| 10997 | MUEN362 | WESTERN HEMISPHERE ORCHESTRA | MWF 1500-1550 | SH 108 |
| 11070 | MUP305 | AMERICAN VERNACULAR STUDIES | - | --- --- |
| 11314 | MUP105 | AMERICAN VERNACULAR STUDIES | - | --- --- |
Areas of responsibility
Jazz Orchestra
Latin Jazz
Jazz Improvisation
Applied Trumpet
Brass Chamber Music
What you will do and learn in my courses
We will be developing the skills needed to express music. You will need to practice.
Education
B.M. University of Wisconsin Eau Claire, Trumpet Performance
M.M. Indiana University, Jazz Studies
D.M.A. University of North Texas, Jazz Studies/Brass Pedagogy
Teaching focus
Music, Jazz, Chamber Music, Brass Pedagogy
Research areas
The intersection of hard bop and free jazz in the music of Woody Shaw
The role of jazz composers and large ensemble jazz music in jazz history
Jazz Education
Brass Pedagogy
Professional memberships
TMEA
OMEA
International Trumpet Guild
---
Did this faculty or staff member support your efforts to succeed? Give them a Student success shout-out.