Faculty/Staff Information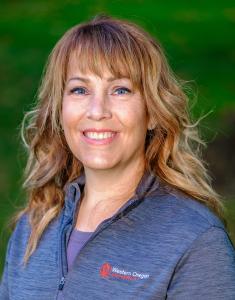 Marion Barnes
(she/her/hers)
Interim Director Marketing & Communications, Strategic Communications & Marketing
503-838-9329 | barnesm@wou.edu
AD 302

Why I chose WOU
I believe in WOU's mission to provide accessible, transformative education to all.
At WOU since
01/03/2017
Hobbies
Baking, reading, making mosaics
Fun fact
I own a wedding cake design company.
Hometown
Stayton
Favorite book/movie
The Princess Bride
Areas of responsibility
I write articles for WOU Stories on the Western Oregon University website, for Western Edge magazine and for many other uses. I also edit all the projects produced in the MarCom office. I work with all WOU departments on their letters, brochures, websites and anything else they want assistance with. Press releases promoting WOU also are on my task list. I work closely with the social media manager on messaging strategies.
Education
B.A. in Journalism, University of Oregon
M.S. in Journalism -- Strategic Communication, University of Oregon (pending)
Professional experience
20 years' experience as professional journalist, mostly at daily newspapers. I was a copy editor, page designer, headline writer, assistant sports editor, special publications editor and editor of a women's magazine called "Willamette Woman." I also have been a freelance writer/editor for a marketing company for several years and create content on myriad topics for an online content provider.
Professional memberships
Society of Professional Journalists
---
Did this faculty or staff member support your efforts to succeed? Give them a Student success shout-out.